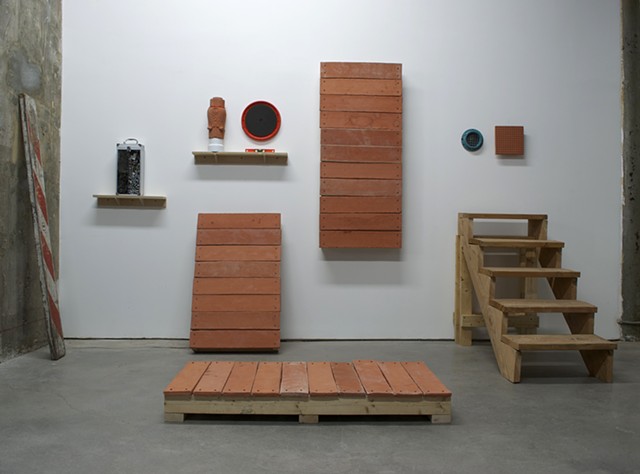 What's The Commodity?
ceramic, wood, home depot lid, fasteners, gift box, plastic tubing, grinding wheel, level, pvc fitting, plumbing fixture, anti skid rubber flooring
15 x 6 x 8'
2013
What's The Commodity? Addresses architectural ornament and the balance between historical preservation and gentrification. The installation reads left to right beginning with a repurposed DEP barrier set aside to indicate the viewer has full access to this site. For the first time, I have injected myself into the work through the vehicle of self-portrait. This self-portrait is presented as a gift box containing fasteners used in installations dating back to 2008 to create a historical time-line referencing my research and previous works that explore urbanism. A vignette of terra cotta ornament and plastics searches for balance, while the titular line, "What's the Commodity?" is explored through the terra cotta shipping pallets. The installation concludes with architectural fragments serving as metaphor for transition. As a whole, the work questions how our neighborhoods are being marketed and how they can be responsibly gentrified.