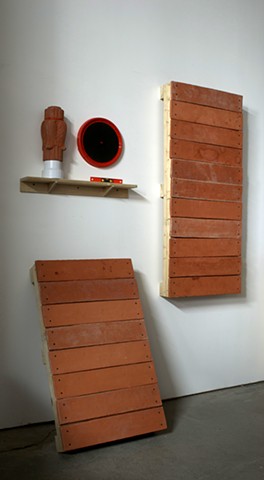 What's The Commodity?
ceramic, wood, home depot lid, fasteners, gift box, plastic tubing, grinding wheel, level, pvc fitting, plumbing fixture, anti skid rubber flooring
2013
What's The Commodity? Addresses architectural ornament and the balance between historical preservation and gentrification. A vignette of terra cotta ornament and plastics searches for balance, while the titular line, "What's the Commodity?" is explored through the terra cotta shipping pallets. As a whole, the work questions how our neighborhoods are being marketed and how they can be responsibly gentrified.